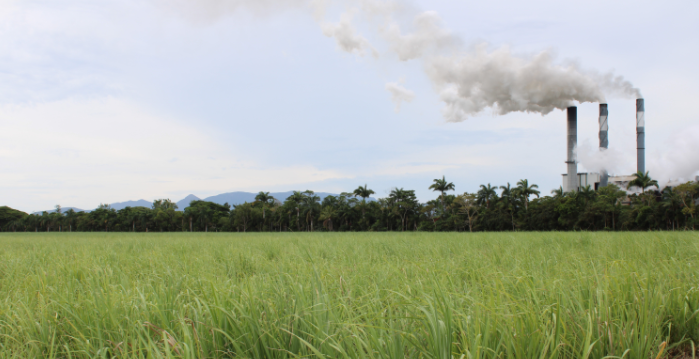 Dear Frank,
It is very rare we are able to secure the entire QCGO board. CANEGROWERS Herbert River will be holding our Annual General Meeting on Monday 19 April 2021 at the Noorla Bowls Club commencing at 3pm. We are very fortunate to have the entire QCGO board in attendance at our AGM this year along with our Guest Speaker Chairman of QCGO Paul Schembri. This is a great opportunity for you to receive the latest updates on local and state wide issues and to interact and ask questions to the QCGO Board and Management.
Call today to book your spot.
Dinner will be provided after the AGM concludes. For catering purposes, please RSVP by contacting the office on 4776 5350.
See some profiles below for QCGO board members.
Frank Scardamaglia
Manager
CANEGROWERS Herbert River
Email: frank_scardamaglia@canegrowers.com.au
Phone: 0475 818 800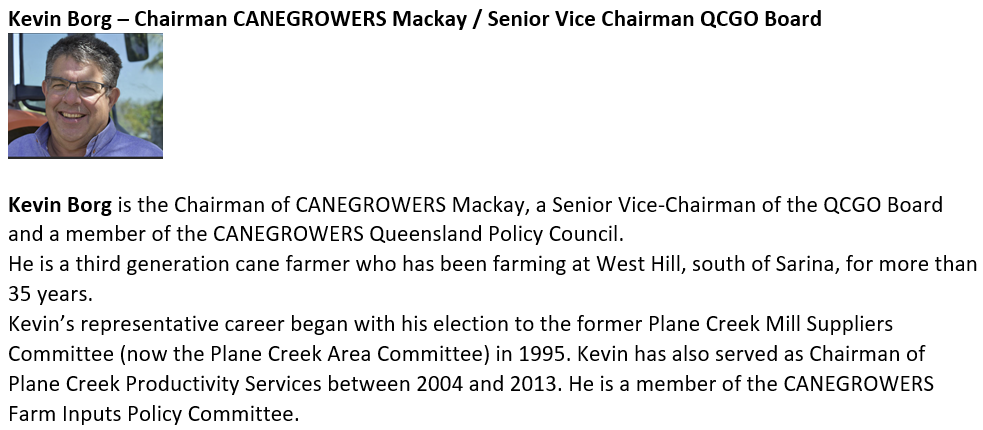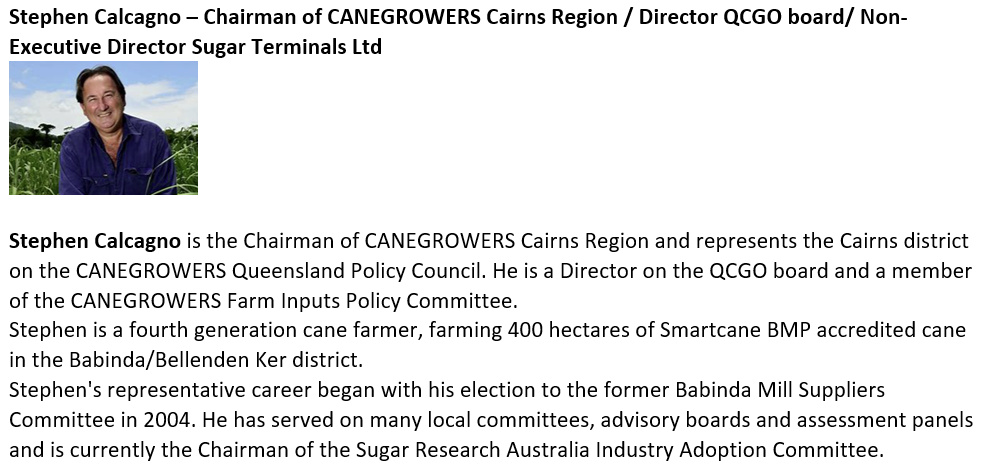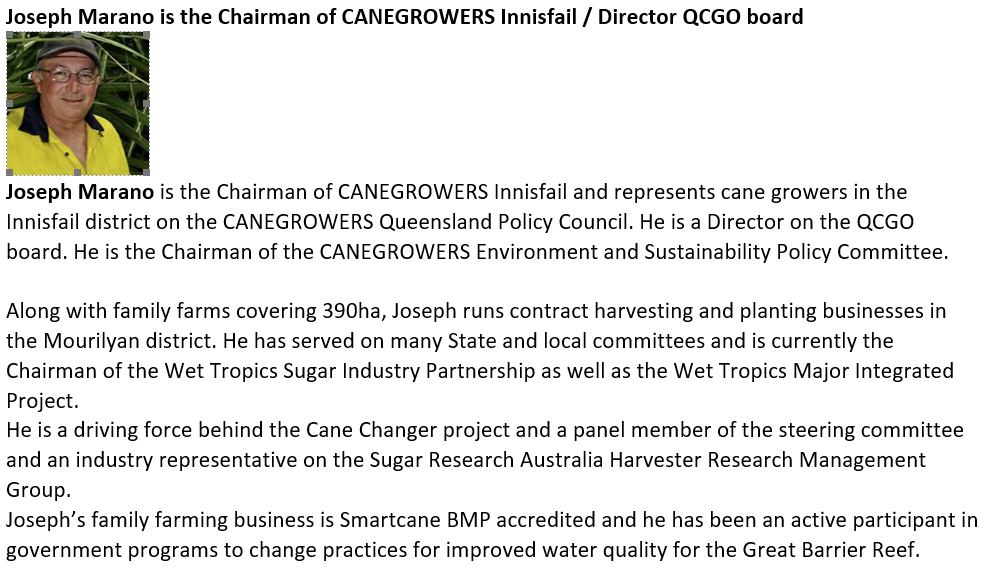 Farm Management Deposits Scheme - Evaluation
The Department of Agriculture, Water and the Environment is undertaking an evaluation of the Farm Management Deposits Scheme (FMDS) to ensure it meets the expectations of primary producers and operates efficiently.
The department wants to hear your thoughts on how the FMDS is run and how it helps primary producers manage through tough times. They also want to hear about other ways primary producers manage risks and how they compare to the FMDS.
Your feedback on the outcomes, impacts, costs and benefits of the FMDS will support government decisions on the ongoing implementation of the FMDS.
CANEGROWERS will be submitting comment through the National Farmers Federation but if you use the Scheme and want to provide personal feedback, have your say by clicking on the link below.
CANEGROWERS Marketing Information Service
The supply and demand situation remains quite tight in the sugar market but activity by speculators has kept prices down. Watch the CANEGROWERS Marketing Information Service April 2021 update with Dougall Lodge for an insight on what's happening.
Click on the button below.
Forklift operator seriously injured by falling pallet

In February 2021, a warehouse facility worker was seriously injured when several pallets fell onto the forklift he was operating.
Initial enquiries indicate he was using the forklift to place a stack of pallets onto storage racking when for reasons yet to be established the pallets fell and landed on the forklift's overhead protection cage but also struck the back of his head.
Investigations are continuing.
To read the full story click on the link below.
Feral Pigs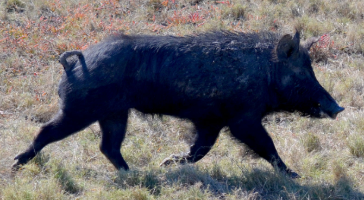 DAF has engaged a consultant to speak with industry groups about how best it can support effective feral pig management across the state. Joseph Marano, Chair of the CANEGROWERS Environment Committee and Mick Quirk, Environment Manager, outlined key issues and experiences in the sugarcane industry.
They emphasised that growers do not need more awareness workshops or flash brochures, but rather support and resources to make things happen on the ground. Examples of effective control measures and successful models of coordination in the Wet Tropics were provided. Lack of control measures in conservation areas were highlighted.
Recent research suggests that rapid knockdown of a feral pig population by 70% or more is needed to suppress its growth potential. How to achieve this, and how to do it before crop damage occurs, are issues that DAF should target.
Use of 1080 in fruit baits has been common practice in the Wet Tropics. Regulatory approval for this originated from a State Board that pre-dates the formation of APVMA. To ensure fruit and meat-based baits remain a legal option, DAF applied for minor use permits from the APVMA 12 months ago. However, progress has been very slow, and CANEGROWERS has sought an explanation from the APVMA's Chief Regulatory Scientist.
Australia now second biggest raw sugar exporter
Queensland's sugarcane growers are counting down to the start of 2021 harvest, buoyed by the news that Australia has jumped to second place in the list of raw sugar exporting nations, even with weather reducing the expected crop.
To find out more click on the link below.
QSL Update

2021-Season Pricing Declaration Date
The 2021-Season Pricing Declaration Date is Friday 30 April 2021. This is the last day for growers to nominate to their chosen QSL-Managed and/or Grower-Managed pricing product for the 2021 Season. Any tonnes that remain unallocated after 30 April will default to the QSL-Managed Harvest Pool.
Key dates:
1 March – 30 April 2021
QSL Actively Managed Pool: Nominations open for 2021-Season QSL Actively Managed Pool.
20 April 2021
QSL Target Price Contract: Pricing Completion Date for the 2020-Season Target Price Contract. Any unpriced tonnage after this date will be priced by QSL at the next market opportunity.
30 April 2021
QSL Pricing Declaration Date: Last day for growers to nominate to their chosen QSL-Managed or Grower-Managed pricing product/s for the 2021 Season.
Docto – Medical Specialist online

Without travelling or even leaving home, you can now see a medical specialist online. Go to docto.com.au on your mobile phone or home computer and book a telehealth appointment with a specialist from Dermatology to Urology. All you need is a referral from your local GP.
The cost of a consultation is subsidised by Medicare with out-of-pocket expenses to see a private specialist from $35.
Patients are matched to the nearest, most appropriate specialist for their care and offered an appointment within 5-7 days.
Any questions? Email team@docto.com.au or click on the button below for more information.